LTR027

Anoushka Shankar

Forever, For Now

2023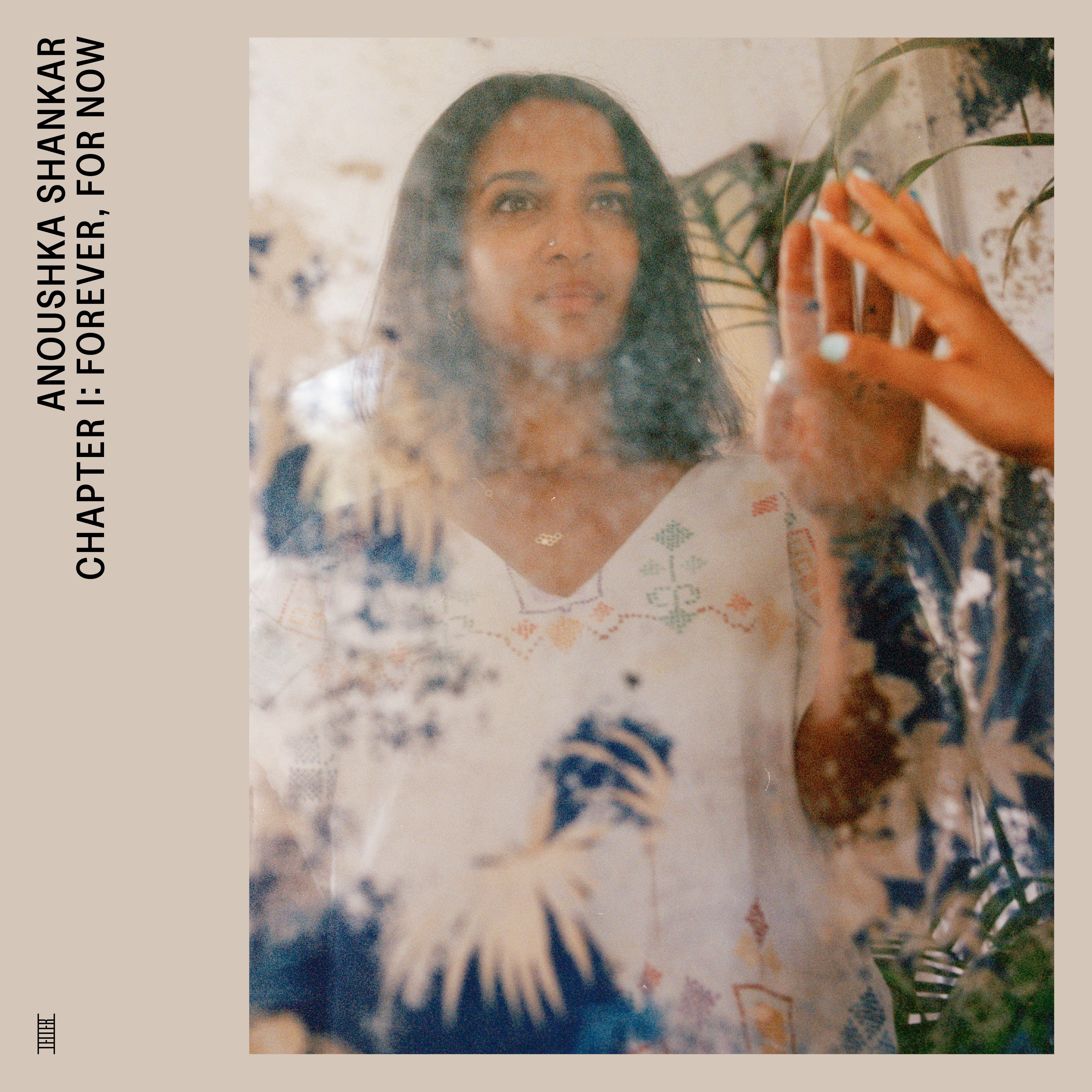 Anoushka Shankar, the acclaimed sitar player, producer and composer, shares her first release since December 2022's standalone single, 'In Her Name', which commemorated the tenth anniversary of the 2012 gang rape in Delhi of Jyoti Singh Pandey, and 'Between Us…', her live album for LEITER earlier the same year, recorded with Jules Buckley and the Metropole Orkest and nominated for a Grammy for Best Global Album in 2023.
Recorded at LEITER's studio in Berlin's celebrated Funkhaus complex, 'Forever, For Now' makes up the first chapter in a trilogy of mini-albums Shankar will be writing and releasing as an evolving story between tours. Featuring guest appearances by Nils Frahm (piano, glass harmonica, harmonium, slit drum), Gal Maestro (bass) and Magda Giannikou (accordion), 'Forever, For Now' was produced by Arooj Aftab, with whom Shankar had previously collaborated on 'Udhero Na', from the deluxe edition of Aftab's 'Vulture Prince' album. This, too, was nominated for a 2023 Grammy, this time for Best Global Music Performance – bringing to nine Shankar's tally of Grammy nominations to date – and their creative reunion for 'Chapter I' proved especially liberating. "I wanted recordings that express moments," the sitarist says, "not my analysis of those moments from a future vantage point, which often happens when working on albums over a longer period."
'Forever, For Now's dominant mood is set by the bewitching stillness of the opening 'Daydreaming (featuring Nils Frahm)', a fresh take on a traditional Karnatik lullaby. "I remember my mother and grandmother singing it to me as a child," Shankar reminisces, "and one day last summer, while I was in the garden with my two sons and my sitar, I was strumming when one of my sons got tired and lay down in my lap. As I started finding this melody from my childhood, he fell asleep, and I remember trying to savour the beauty of the moment. This song is a snapshot of afternoon sun through leaves, roses in bloom, a child dozing on his mother's lap, the preciousness of a single moment fully lived and witnessed. This whole chapter, in fact, is about that feeling, being completely in the fullness and transience of a single moment, coming to forever – for now."
Right from the outset, Shankar's intention over the three releases was to work with a different producer on each mini-album, and Aftab was an obvious candidate for these inaugural sessions. "I'd always thought she was brilliant," Shankar recalls. "and working together on 'Udhero Na' confirmed our collaborative chemistry. I love the genre-fluid world she creates with thoughtful arrangements and sonic spaces. It's something I also value in my own work, but she does it differently. I was really drawn to that different voice, that different colour."
For Aftab, too, this was an opportunity to enlarge upon their earlier collaboration, except this time in greater depth and, of course, together. "I was ecstatic when Anoushka asked me to produce her new material," she says. "I wanted to be sure that we created a minimal ambience that was both composed but very space-giving and free, one that felt without time but not without pulse. Anoushka tells us an unhurried story on each song, and we hear beautiful characters coming and going, like Nils on glass harmonica, or fluttering Magda Giannikou on accordion. Juxtaposing Gal Maestro's flamenco bass timing sensibilities against Anoushka's own classical sense of timing without making them actually meet in the middle, or one person follow the other, resulted in a really stunning musical dialogue."
Shankar had already visited LEITER's studio once, discovering its famed acoustics for herself while jamming with Frahm. "There's a romance to a room with that kind of recording history and scale," she enthuses, and the stars aligned when she and Aftab agreed it was also the most convenient venue to reunite for a week during their endless travels. They began with a blank slate, aside from "little half ideas and unformed melodies," and it took just two days to rough out three of the four songs. "In the months before we met in Berlin," Shankar continues, "we had talked extensively about what we hadn't heard in my work before, and that was really formative in how I approached my playing. Once in the studio Arooj was a clear, warm and generous producer, and the creative process instantly flowed."
Also on hand those first two days was Frahm, whose role, Shankar elaborates, "was subtle but magical. He was so present and open, moving around his instruments in a way that was very inspiring." In particular, he joined Aftab in coaxing the exquisitely paced, delicately arranged 'Stolen Moments' from Shankar's original, haunting melody. "Exploring space and silence is not something that's always been comfortable for me, and I allowed myself to hold back and not just play notes for the sake of it. It felt like a recording that came from truly listening and responding to the moment."
Frahm can be detected on two further tracks, his piano softly underpinning the soothing opener, 'Daydreaming', his glass harmonica and slit drum providing a foundation for the remarkable 'What Will We Remember?' during whose nine minutes – which are based upon 'Madhuvanti', a Hindustani evening raga – Shankar gently explores a graceful alaap, unfurling increasingly energetic flurries of sitar notes to create an astonishing, hypnotic mirage. The mini album concludes with 'Sleeping Flowers (Awaken Every Spring)', a showcase for her fluid, lavish dexterity, but always at 'Forever, For Now's heart lies the memory of that enchanting afternoon in Shankar's garden, her son drowsy in her lap, the sun moving at its own sleepy pace towards sunset, one of those seemingly insignificant yet unforgettable moments that, like her music, mysteriously transcends transience. Where 'Chapter II' will take us remains unwritten.
'Chapter I: Forever, For Now' is available on limited edition vinyl and via all digital platforms.