LTR029

Moses Yoofee Trio

Ocean

2023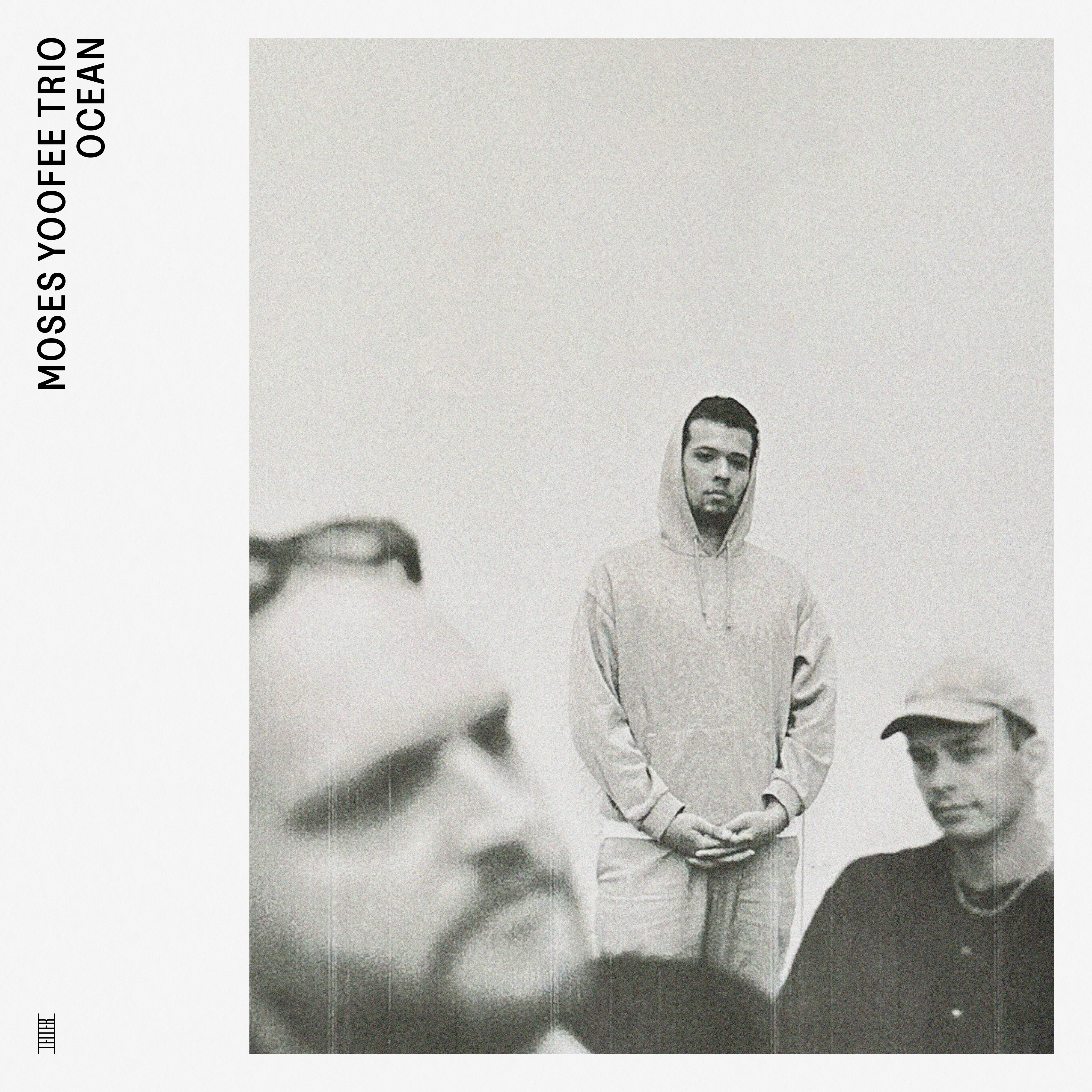 Having built an impressive following on the back of live performances and social media, Berlin's Moses Yoofee Trio share 'Ocean', their impatiently awaited debut mini-album. The five-track collection follows their stand-alone single, 'On That Side', released in June 2023 alongside a one-camera, one-take video recorded live at Berlin's Zentrifuge Studio. 'Ocean' is available via all digital platforms, and will be followed by a live tour at the end of the year, with more dates due to be announced soon.
Emerging at a time when jazz is in rude health, the trio – pianist/keyboardist/producer Moses Yoofee, bassist Roman Klobe-Barangă and drummer Noah Fürbringer – have lit up Germany's clubs and venues over recent years with astonishing, almost obscenely tight live shows. Turning as much to RnB, hip hop and soul as more traditional jazz sources – though they're definitely united by J Dilla and Madlib – the band cite a wide variety of influences but, as Roman makes clear, "We find a common ground in our musicianship."
'Ocean's tunes – written during sessions in mid-2022 at Berlin's Brewery Studios and swiftly recorded by house engineer Erik Breuer, then mixed by Tytus Lesczcynski – reflect the spontaneity, inspiration and instinctive refinement of their performances. The deliciously frantic title track and increasingly ecstatic 'Minor Issues' stand in stark contrast to 'At Ease''s restrained complexity, while 'Fragile''s hypnotic rhythm betrays their love of hip-hop and the lush 'Richmond' is driven by a deliciously low-strung groove before shifting up a gear for its climax. "Everybody loves fusion," the band agree, "even if they don't admit it," but that's only one element of the trio's sophisticated style, with Moses' exceptional keyboard skills illuminated by Roman's fluid bass lines and Noah's eloquent drum patterns.
Having grown up in Potsdam and Berlin, Moses has been active in the country's jazz scene for a good decade, and in 2013, when he was still just 14 years old, he was described by Germany's Tagesspiegel as a "young jazz genius". Despite the band's name, however, the trio's an equal partnership and they write all their music together. They formed after Moses met Roman, who was raised in the south of Germany near the Swiss border, at Berlin's Jazz Institute, where they were both studying, and it was Roman who suggested they jam with his friend Noah, a native of Munich who by then was studying in Mannheim. "It felt really good," Moses recalls of that initial experiment. "Instant love! And Noah wanted to move to Berlin anyway."
It was in January 2021, about a year after they first gathered, that Noah, already well-known for sharing videos of his prodigious drumming on social media, started posting footage of the trio's rehearsals. Another video, uploaded by Roman, went, as they put it, "low-key viral" – it's now earned some 57,000 'likes' – so they started a dedicated Instagram account which rapidly helped grow an audience for the still-unsigned trio. As word spread across Europe, they began playing further afield, including a show late last year at London's fabled Ronnie Scott's.
All three musicians have been playing since their childhoods, Yoofee from the age of 4 after a neighbour gifted a piano to his family, and Roman, who began trumpet lessons aged 5, encouraged by a pianist mother. Noah, meanwhile, was even younger when he first sat behind his father's Pearl Fiberglass kit, and, furthermore, his parents were filmmakers who worked with music-associated themes. As a result, by the time the guys met they were seasoned musicians, having already recorded and performed with multiple acts. Furthermore, they remain hungry for opportunities to collaborate with others. "Working with different people is the most fulfilling thing for me at the moment," Moses says, "because I always learn so much." Roman, meanwhile, mischievously acknowledges that "one project can never satisfy all my musical needs".
Consequently, Moses, who also records under his surname, is currently writing for Footprint Project and the Wanubale collective, as well as acting as Musical Director and pianist for platinum-selling Peter Fox of Germany's similarly successful Seeed. (He can already be heard on Fox's 2022 hit, 'Zukunft Pink'.) Roman, too, was working on Fox's latest record, as well as with, among others, Kurdish-German singer Mailan Ghafouri aka Lune. Noah keeps himself similarly busy: He founded Lord Of The Amazing Panther in 2020, released an album as Noah Fürbringer and Friends in 2022, and plays with acclaimed German-American rapper Casper, New York saxophonist Alex Han, German actor/comedian/musician Teddy Teclebrhan, and New Zealand-born Future Soul artist Noah Slee, with whom Roman also plays.
Before the release of 'On That Side' in Summer 2023, the Moses Yoofee Trio had largely refrained from releasing recorded music, with just two tracks available on streaming services. "It always takes a while until you build the right team around you," Roman explains, "and that's crucial so it doesn't disappear." With LEITER, fortunately, they've found the right home. "Nils and his team don't restrict themselves to a specific style," the trio enthuse, "which is greatly appreciated! Plus, they have the most beautiful studios (at Berlin's Funkhaus). It's an honour to be able to work there." With their live reputation already sealed, then, 'Ocean' at last provides a long overdue chance to dive deep into their distinctively thrilling sound. Thank you for your patience. Now enjoy the rewards.