LTR021

Alexandra Hamilton-Ayres

Play Echoes

2022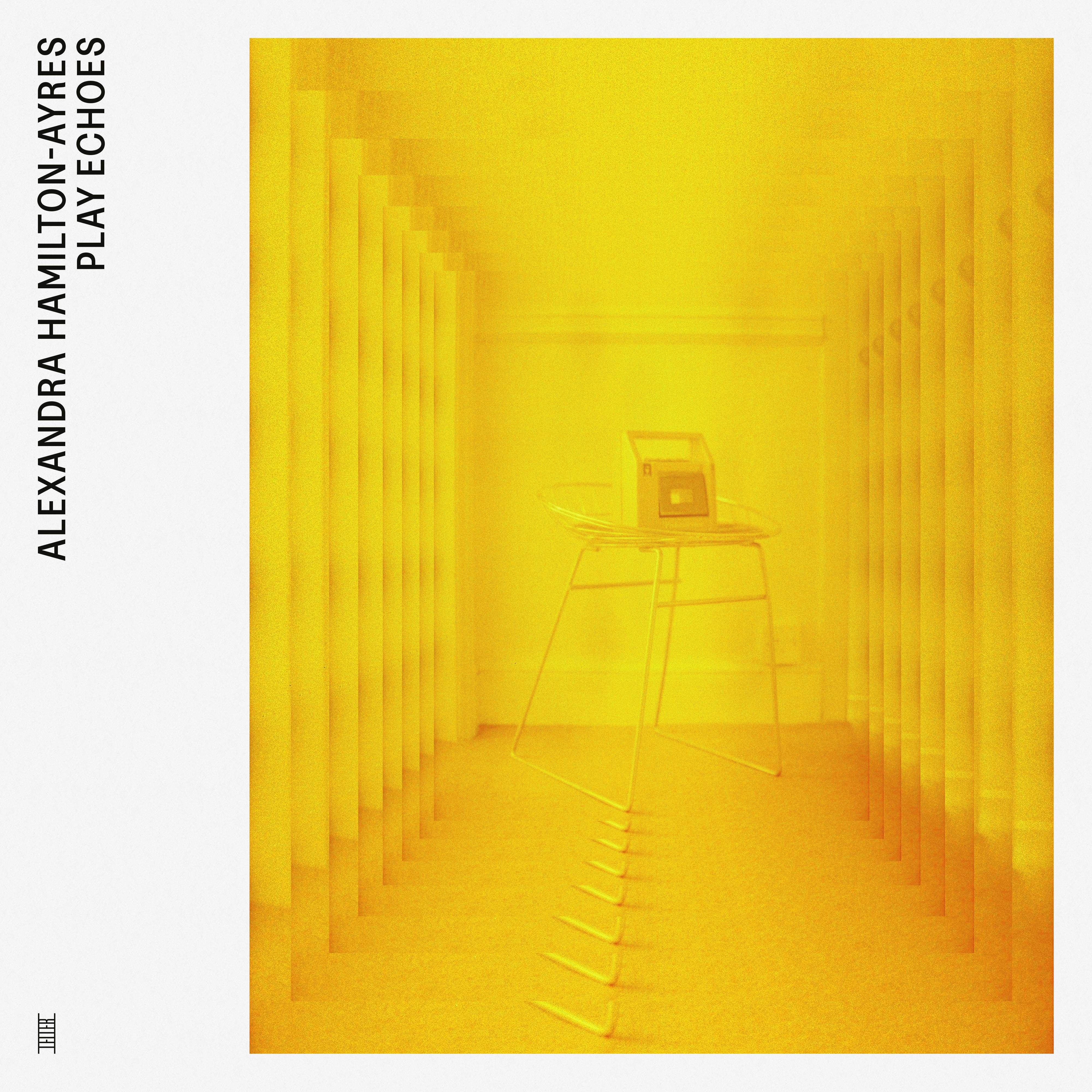 'Play Echoes' is the striking new album of British-Belgian composer Alexandra Hamilton-Ayres. The follow-up to '2 Years Stranger', her 2020 debut – described as "hauntingly beautiful" by BBC Radio 6 Music's Mary Anne Hobbs – it was largely recorded over two weeks in 2022 at LEITER's studio in Berlin's Funkhaus complex.
'Play Echoes' is a collaboration with Her Ensemble, the UK's first women and non-binary orchestra, which formed during the pandemic. The album is a deeply meditative, beguiling collection combining classical instrumentation with electronic and electro-mechanical elements. From the sprightly, piano-led chamber music of 'London '92' and the more extravagantly romantic 'Stone Stairs' to 'Grenadine''s and 'Unbound''s rippling synths, the record summons an air of nostalgia both bitter-sweet and immersive. That's not to mention the gracefully languid strings of 'Stair Echoes' and the touchingly hesitant 'Understanding Now', nor the vigorous 'Watercolour', the album's first paper scored track, originally written for string quartet after sessions for this year's 'Long Live My Happy Head', a documentary Hamilton-Ayres scored for, and recorded with, Her Ensemble. Indeed, the record's origins can be found in an intimate recording of a conversation between a three-year-old Hamilton-Ayres and her mother, parts of which appear in the innocently optimistic opener, 'Olympia'.
"It really captivated me to hear those childhood dreams," Hamilton-Ayres confesses of the tape, which was found while packing up the family house for a move to France. "The album's title comes from the idea of walls echoing memories in the house, childhood play, and also the physical 'Play' button on the old tape machine that I recorded that tape with as a kid. It triggered a long chat with my mum about dreams we'd had and where we were at in life. It made me want to tap into memories and worlds that don't exist anymore and capture them. When I first met the Leiter team I told them that whatever I was writing was going to end up having those emotions processed and channelled. Going through and throwing away things from childhood, reflecting sentimentally on the house: I wanted to try and define what home, people, places and memories mean to me."
As it happens, ideas of home and identity are more complicated for Hamilton-Ayres than for many. She was born to a Belgian mother in London, where she was raised, christened in Charleroi, Belgium, and surrounded by French speakers throughout her childhood. Later her family left behind this multicultural urban upbringing for the Cotswolds, where she also lived with her grandparents of mixed European ancestry and Malaysian upbringing. The elegiac lead single 'Sept Douleurs' is named after the church in which she was baptised and, she reveals, came to express "a spiritual reflection on family roots and heritage, a sense of longing to be closer to everyone – but it being impossible with everyone moving further away – and closure on leaving the home I grew up in."
Hamilton-Ayres' musical roots are no less byzantine. It was her mother who first inspired her love of piano, playing Debussy, Satie and Chopin for her while she sat on her lap "until curiosity took over to play myself," and later she took up clarinet, partially, she says, because "I really liked the chrome and black aesthetic of it". But though her love of music like Prokofiev's 'Peter & The Wolf' and Saint-Saens' 'Carnival of the Animals' instilled an enduring love of storytelling – "Something I noticed talking through the tracks as we were recording Play Echoes," she recalls, "was the level of pictorial detail that came through for me in recounting the elements in each one" – her family were just as likely to enjoy the sounds of their own 1960s youth as opera. Childhood summers in a French chateau meanwhile added American country music and 50s rock 'n' roll to the mix, and Hamilton-Ayres then broadened her horizons as a teenager, developing a love for minimalist contemporary classical as much as electronic music like The Prodigy, Fatboy Slim and Moby. "Even now that's still my go-to escapism music to play loudly on repeat," she smiles.
Hamilton-Ayres, who plays piano as well as clarinet, harmonium, synths, mellotron and drum machine on 'Play Echoes', studied music at Bristol University, then earned an MA in Composition for Film & Television while writing her first scores for short films. These days she works largely on full length films, with her most recent projects including documentaries about humanity's relationship with oil (The Oil Machine), open-pit mining and the destruction it delivers (Finite: The Climate Of Change), and an illustrator living with a brain tumour (Long Live My Happy Head). She's also written for opera, theatre, dance and even circus – "A producer now based in Malmö paired me up with a trapeze artist," she marvels – and has collaborated with and remixed multiple acts, including Mara Simpson, Anna Phoebe, Hector Plimmer and Vanbur.
'Play Echoes' brings together these experiences working across multiple disciplines, displaying Hamilton-Ayres' skill at handling sentiment as much as her fondness for narratives and quiet drama. "I have a need to try and express something that doesn't make as much sense in words," she concludes of her music. "I think I have an idea of what needs addressing personally and mentally, but out of that comes meaning that surprises me." Confirming her as one of the most emotionally articulate and compelling composers of her era, 'Play Echoes' represents childhood dreams come true and adult reflections made real. It also feels like coming home.
'Play Echoes' is available on CD, LP, for download, and via all streaming platforms.